Animated School Isometrics PowerPoint Template
Isometric designs give a new perspective to presentations, making them more visually appealing and interesting. Unfortunately, isometric template designs are often not widely available, with the exception of a few third-party developer's.
Presenter Media's isometric PowerPoint templates are surprisingly editable, despite their elaborate layouts. One such template is the Animated School Isometrics PowerPoint Template.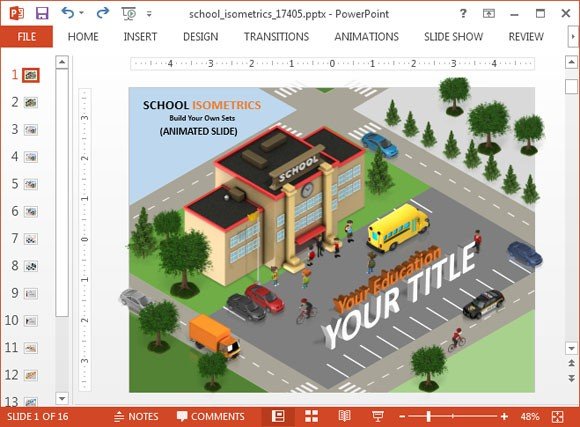 Easy to Edit isometric Slides
This education themed template has some mind blowing slide layouts with built-in placeholders to help you add your content without messing up the isometric design. The template contains removable textboxes with instructions for editing the animated slides.
There are a range of education and school related slides which can help you cover your presentation topic with ease. The objects within slides are movable and even removable. However, you might have to replace certain objects to ensure that the animations work in the right order.
Animated and Static Slides
The template features both animated and static slide options to choose from. So, you can not only create a fully animated presentation but even switch to static slides according to need.
Isometric Clipart Images
The template also provides two slides with sample clipart and instructions. These isometric clipart images can help you further customize the sample layouts by placing objects like cars, human figures, books and classroom chairs within your slides.
With the aid of this vast range of clipart library you can easily create new slides with creative ideas and even make good use of the sample ones by placing clipart to create your illustrations.
This isometric school and education based presentation template is downloadable in PowerPoint's PPTX and Keynote formats. You can even use this template on your iPad by using a Keynote app. More details about template features and compatibility can be found on the developer's website.
Go to Presenter Media – Animated School Isometrics PowerPoint Template