Handy Project Management Tools You Did Not Know About
Last updated on March 10th, 2022
Project management tasks can be made easy using a number of handy tools and services. You can not only make use of Office templates but also use online services that can help you get work worth hours done automatically, as well as generate trends for you.
In a few previous posts we brought you a list of some handy tools and templates to help streamline your project management tasks, including:
This time we will provide you with an overview of a few handy project management tools you probably did not know about.
1. Socialcast
If you or your organization is looking for a personal touch to help your departments better collaborate and your project managers to be able to work more efficiently, then Socialcast is just what you need.
This web service by VMware actually lets you create your very own organizational social network with collaboration features that are hard to find elsewhere. Socialcast is meant to be an enterprise social network, where you can not only manage your projects and assign tasks but also collaborate just like you would on Facebook, yes, it's that easy and fun!
Go to Socialcast
2. DropTask
DropTask is exactly what its name suggests, i.e. a web app which makes project management as easy as drag and drop. Using DropTask you can create tasks with labels, arrange them in groups, view task due dates, overdue tasks, work in progress, work on hold, and tasks by priority. Furthermore, DropTask provides integration with a range of famous productivity web apps that you can think of.
You can find out more about DropTask from the link given below.
Go to DropTask
3. Smartsheet
Smartsheet is a project management tool for making online Gantt charts, with online collaboration features like file sharing and discussions. Smartsheet is fairly easy to use and works pretty much like an online Excel sheet but with options that are suitable for online collaboration and project management to help you be more productive doing less work.
Wannabe project managers need to know the importance of project management tools in order to keep everyone on track. These tools can help to manage projects efficiently, and communicate the project tasks and progress with team members, by assigning assign tasks, organizing the project requirements and tracking the overall project progress.
Go to Smartsheet
4. Gigantt
This web app is a simple Gantt chart making service, with a plethora of features for creating effective online Gantt charts, which can be viewed in a zooming UI with a high resolution. Gigantt is meant for planning projects and assigning tasks, with a blend of some very useful online collaboration features.
Go to Gigantt
5. ProjectFlow
ProjectFlow is a web service where you can easily create project boards to create project lists and timelines. This visualization tool is quite useful for laying out projects in the form of visual representations to keep an eye on milestones and tasks, as well as to organize multiple projects.
Go to ProjectFlow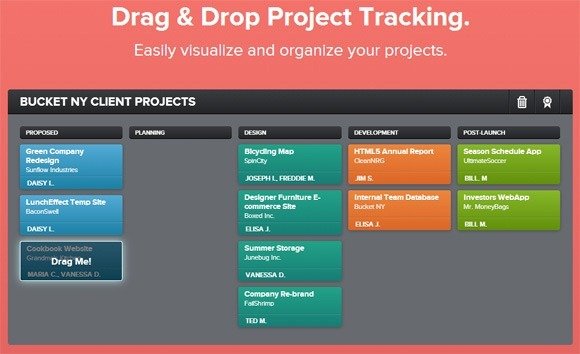 With the help of these tools listed above, project managers can make their lives easier. A task manager is an online action management app that helps you track your to-do list and projects on the go. A free task manager can be a very good productivity tool. Keep track of all your deliverable and tasks and be organized with these productivity tools.