10 Best Gantt Chart Tools & Templates For Project Management
Last updated on August 29th, 2023
Gantt charts play an important role in project management for tracking project schedules and keeping an eye on the progress of ongoing assignments. There are a plethora of resources available for both online and offline project management with the aid of Gantt charts, including free Gantt chart templates, online Gantt chart web apps, free Gantt chart software and more. We have compiled a list of some of the very best Gantt chart tools and templates for project management that can aid you in managing your projects efficiently.
1. Doolphy
Doolphy is a web service for online project management using Gantt charts. It comes with a wide range of options that can help you organize, track and address project management tasks, with online collaboration and the ability to set deadlines for assigned tasks. What makes Doolphy quite a handy online project management web app is its compatibility with mobile devices, which makes it that much easier to manage your projects on the go.
You can learn more about this web service from our review of Doolphy via the link given below.
Go to Doolphy
2. Smartsheet
Smartsheet is another good online project management tool which is although not as feature rich as Doolphy, however, it serves as a service with all the basic features for making and managing Gantt charts. Smartsheet is like an online spreadsheet, which is similar to an Excel spreadsheet. You can insert columns, view your calendar, share files and add discussions to a row for online collaboration. In other words, Smartsheet is Excel supercharged with online collaboration features.
You can learn more about this web service and watch the video demo of Smartsheet via the link given below.
Go to Smartsheet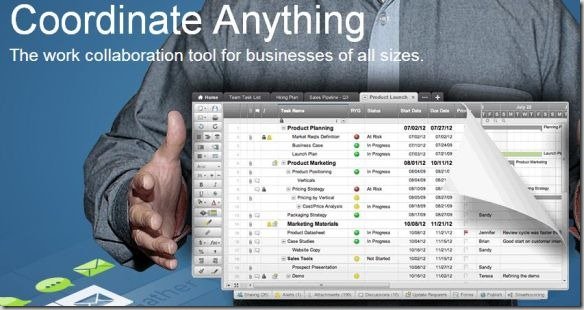 3. Tom's Planner
With support for modern browser and the ability to import data from Microsoft Office apps like Excel and Project, Tom's Planner is an excellent project management web app. You can even import your work from JSON and Open GXML file formats. The interface is like that of an Excel spreadsheet, which allows creating exportable Gantt charts with a range of exciting options.
You can even try out the online demo for Tom's Planner without any sign up to test drive the service.
Go to Tom's Planner
4. jQuery Gantt Chart
As the name implies, this is a Gantt chart as a jQuery component. This simple plugin makes use of ajax for retrieving json data with features like zooming and paging.
Go to jQuery Gantt Chart
5. Ext Gantt
Ext Gantt is an HTML5 Gantt chart tool which can be used for managing your project schedules. By leverage the Ext JS component model you can even create custom plugins for adding your own preferred functionalities. Existing projects from Microsoft Project can be imported and you can also export charts to a PDF file or as a PNG image.
Go to Ext Gantt
6. dhtmlxGantt
This is a JavaScript Gantt chart with advanced zooming, a configurable grid, with filtering and customization flexibility. It works with native jQuery syntax and you can change anything from the colors to the view, text, task bars and other features as per your convenience.
Go to dhtmlxGantt
7. Simple Gantt Chart Template for PowerPoint
This is a simple presentation template for making Gantt charts in the form of PowerPoint slides. The template is easy to customize and the sample Gantt chart slide is available in the form of an editable chart which can be customized to create timelines, to display project milestones and schedules, as well as to plan your projects ahead.
Go to Download Simple Gantt Chart Template for PowerPoint
8. Gantt Chart Project Timeline Template for PowerPoint
This is another free template for making Gantt charts in PowerPoint with the aid of a readymade layout. You can use this template for making timelines with a custom range of months, weeks, years, etc. To create a custom timeline, you can replace the sample text with your own and organize the chart elements according to need.
Go to Download Gantt Chart Project Timeline Template for PowerPoint
9. Simple Project Tracking Template for Excel Online
This is an Excel template for tracking your projects in Microsoft Excel. The template is accessible via Excel Online, which makes it possible to keep track of projects and to manage them using OneDrive.
Go to Simple Project Tracking Template for Excel Online
10. Gantt Chart Template for Excel
If you are looking for an offline template that can help you track and manage projects, then this is a free template which you might find quite handy. This template allows planning your project activity, setting milestones and timelines and checking which assignments have been completed and how much work has been done for pending assignments.
You can find out more about this template via the link below, which also contains the download link for the template at the end of the review.
Go to Download Free Gantt Chart Template for Template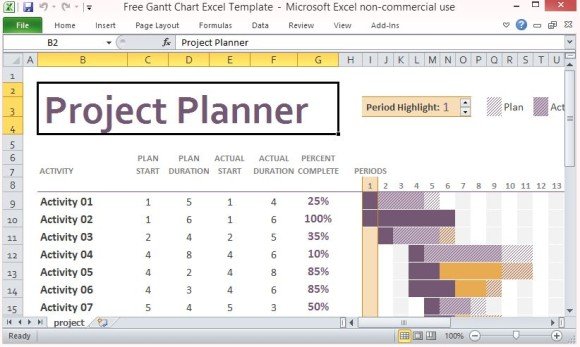 All these previous tools and templates can be used to prepare presentations in PowerPoint and make presentations on project management.
Update 2020-10: There is another presentations template provider SlideModel.com that contains dozens of creative Gantt Chart templates for PowerPoint and Google Slides. It can be considered as an alternative for those who need to prepare Gantt Chart graphics for their presentations.