Sli.do: Q&A And Polling Platform for Meetings, Presentations & Events
Audience engagement is difficult, especially when people are more interested in their mobile phones than your presentation. Hence, it might not be a bad idea to make your audience reach for their phones! Sli.do (also known as Slido) is a web service which provides an audience engagement platform by allowing you to post polls, receive questions from your audience and to capture Live tweets with your event's hash tag.
Create Polls and Receive Incoming Questions
With Sli.do you can easily create new polls and share them on your monitor. You can also receive questions from your audience and highlight the question you are answering to make your Q&A session more interactive.
Update 2016: Sli.do is now available as Slido. The Slide.com domain name is redirecting to the original domain name sli.do
Moderate Questions Before They Go Live
The service provides a moderation feature which ensures that only approved questions are shown, however, if you are not worried about negative feedback or offensive questions, you can also turn moderation off to display your questions without moderation. This level of audience engagement is likely to keep your presentation more lively and encourage even the most shy participants to be able to ask tough questions through their internet connected devices.
Users can participate by simply going to Sli.do and entering the event code. Once done, they will be able to participate in polls and Q&A sessions.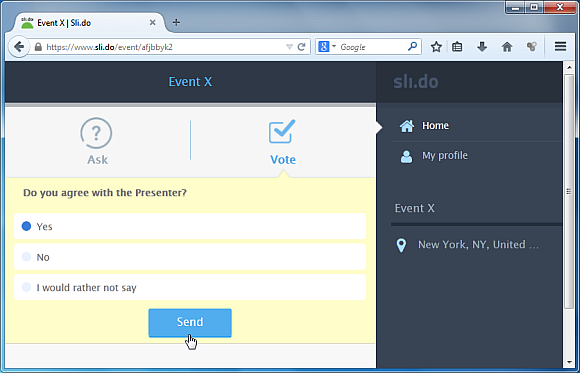 How Does Sli.do Work?
Here is a video which shows you how Sli.do can be used for making your Live presentations more interactive.
Embed Polls in Prezis
We have previously covered a detailed tutorial about how you can use Sli.do to embed polls in your Prezi presentations. For a complete overview about how to do this, see our post about using Sli.do with Prezi presentations.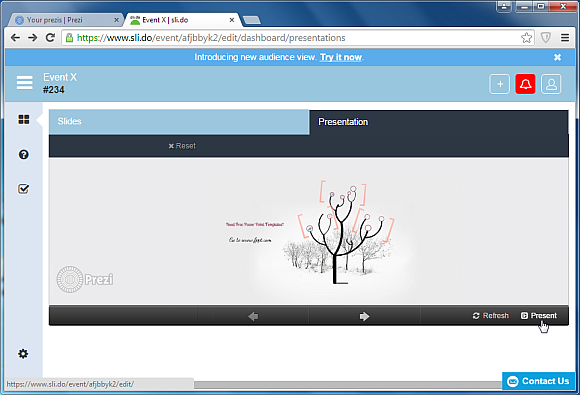 Sli.do has both paid and a free package which is adequate enough to allow you to test different audience engagement features. Take Sli.do for a test drive and see if it helps you deliver a killer presentation.
Go to Sli.do