Best Interactive Slideshow Audience Response Systems
Interactive slideshows which come with built-in polling systems can be a good way of engaging your audience during a live presentation and gathering instant audience feedback. We have compiled an audience response system comparison of some of the finest tools. These tools can be deployed for both small and large scale events, such as corporate presentations, webinars, webcasts, etc.
Most of the tools mentioned below enable audience interaction using internet based devices such as laptops, smartphones and tablets. This makes it quite cost-effective to engage audience by simply providing them with a direct link. We have also included tools which work with clicker devices. Moreover, many of these tools support PowerPoint and PDF files for making slideshows.
Presentain
This is an easy to use web service which enables you to upload a PDF or fetch a document from your Google Drive to present from a web browser. You can add polls to your presentation and gather instant audience feedback for a poll displayed on your monitor. The audience can respond using any internet connected device by following your given polling link. For more details, see our review of Presentain.
Other than the paid packages, Presentain also has a free version with limited functionality.
Go to Presentain

Office Mix
This is a free add-in by Microsoft which can be used for a number of purposes, including making screencasts, video tutorials and for conducting polls and quizzes during your presentations. You will require installing audience response apps from 'Lab Apps for Office'. See the link below to read all about Office Mix.
Go to Office Mix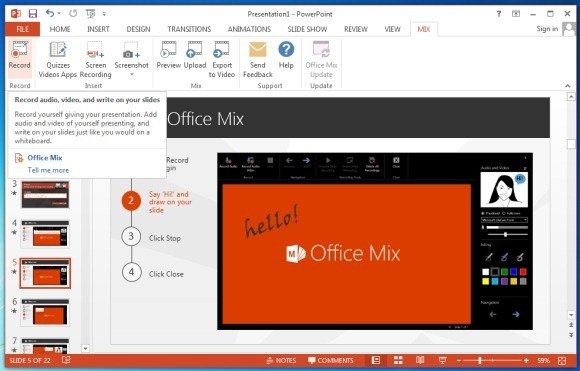 Swipe
This is a very feature rich free web app which can be used for making online presentations with polls. You can upload image, Markdown and PDF files to create your slides and insert polls which can be used for gathering audience feedback via a polling URL.
Go to Swipe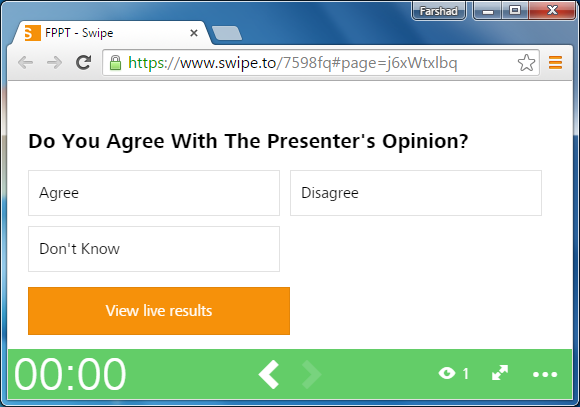 Click A Pad
Click A Pad offers both hardware and software solutions. There is the PPVote software which is compatible with PowerPoint for conducting polls and the hardware clickers which can be used by your audience to respond to polls. You can read all about the software system from our review of PPVote add-in.
For more details about the hardware and software solutions offer by Click A Pad, see their website.
Go to Click A Pad

SlideKlowd
SlideKlowd is a great tool for educators and business professionals which enables making PowerPoint presentations interactive. You can upload your PowerPoint files to SlideKlowd and use the Klowd Control features to present your presentations and make use of interactive audience feedback options to enable users to provide instant feedback for your polls. There are also instant statistics available for the presenter to measure audience engagement.
The audience can use the presenter's given direct link to view slides, save and review presentations and participate in polls. Audience feedback can also be projected on the monitor and the best thing is that to participate in polls, people can use their mobile devices like clickers.
SlideKlowd is a paid service, with the option for requesting demo to test the functionality of the service.
Go to SlideKlowd
iClicker
iClicker is a great tool for engaging students in class. It enables students to answer on-screen questions presented by the teacher using mobile devices like and iPhone and iPad. There is also an Android app which is due to be released soon.
iClicker can be downloaded for Windows, Mac and Linux based operating system for conducting live polls. Moreover, iClicker software is also compatible with remote clicker devices. iClicker like most clicker supported devices is a paid audience response system, with the option to request a demo.
Go to Download iClicker
OMBEA
OMBEA is another audience feedback tool that let you turn group feedback into actionable insights. This is another audience response tool which also supports remote clickers. You can insert the OMBEA interactive slides to your PowerPoint presentation and conduct polls which can be responded to by your audience using tablets, smartphones, laptops and electronic clickers.
OMBEA is not free, however, you can request a web demo to try out the audience response system.
Go to OMBEA
Meridia Interactive Technologies
Meridia Interactive Solutions provides solutions for businesses to make use of technology which enables them to conduct interactive presentations, training sessions and surveys. Meridia's polling system is PowerPoint compatible, with support for remote clickers.
Among Meridia products, the EZ-Vote II software can be used with PowerPoint for conducting polls. Likewise, EZ-Presenter is a software which makes PowerPoint presentations interactive, whereas, the EZ-Poll-IT is an all-in-one solution for conducting polls using various applications, be it PowerPoint, Prezi, PDF or even a video file. The idea of EZ-Poll-IT is to be able to conduct polls using any open application.
Meridia has various applications and hardware devices for gathering audience feedback. For more information you can contact sales and go through their knowledge base.
Go to Meridia