Animated Medical Field PowerPoint Templates
A decade back you would not have imagined using PowerPoint for presenting class lectures or making client related information available using slides. However, PowerPoint is being incorporated in more professional settings than ever before, especially in the wake of add-ins like Office Mix and animated templates from third-party sources.
Here are two animated Medical Field PowerPoint Templates that medical professionals can use for making presentations. With these templates you can create anything from client health related slides to medical tutorials, presentations about medicine and health, etc.
Animated Medical Field PowerPoint Template
This animated template starts off with an introductory slide depicting medical professionals. You can add a logo, title and sub-title to customize this slide to introduce your topic.
Create Medicine and Health Related Slides
The sample animated layouts present medicine and health related content. You can create text heavy slides, insert charts, use the images and clipart, as well as add your own images and videos to customize these sample slides.
Similarly, you can create comparisons, present multiple sub-topics in a single slide, as well as create medical tutorials by using the given layouts.
This animated medicine and health themed presentation template is not only available for PowerPoint but you can also download it for Keynote.
The template is compatible with PowerPoint 2007-2013 for PC and PowerPoint 2008 and above for Mac. The Keynote version of the template also works with Keynote for iPad.
Go to Presenter Media- Animated Standard Medical Field PowerPoint Template
Go to Presenter Media- Animated Widescreen Medical Field PowerPoint Template
Animated Medical Assessment PowerPoint Template
This is another animated medical template with diverse slide layouts and clipart images that can be conveniently used for making a presentation related to health, medicine, hygiene, doctors, hospital and other similar topics.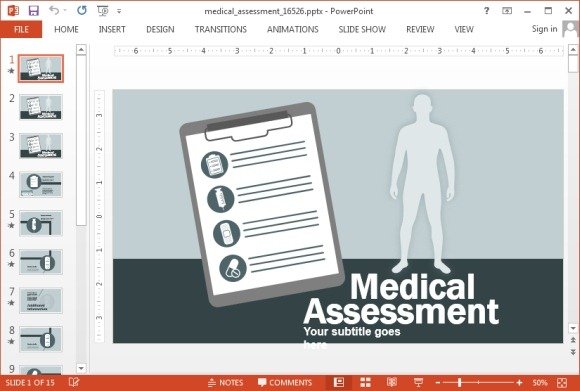 You can download this template in Widescreen or Standard format from the below links or see our complete review of the Medical Assessment PowerPoint Template to read about the various features of this template.
Go to Presenter Media – Animated Standard Medical Assessment PowerPoint Template
Go to Presenter Media – Animated Widescreen Medical Assessment PowerPoint Template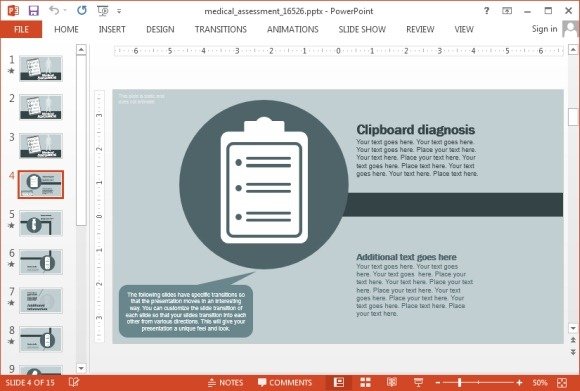 Nurse Checking Blood Pressure Clipart
This is a simple medical clipart which can be downloaded from the link below in static image formats like JPG or PNG. You can also pick a custom resolution to download this image.
Go to Presenter Media – Nurse Checking Blood Pressure Clipart