Top 7 Decision Tree PowerPoint Templates
You can make effective decision tree diagrams and slides in PowerPoint using built-in PowerPoint features like shapes and connectors. Decision trees are a powerful business tool that can help you to describe the logic behind a business decision and offers and effective and systematic method to document your decisions outcome and decision making process.
Decision trees can also be modeled with flow charts, although in this article we will show you how to download and use some of the best free and premium decision tree PowerPoint templates so you can create your own decision trees from pre-designed templates instead of designing it from scratch.
PERT stands for Program Evaluation Review Technique and provides a framework for designing work flows by combining other methods such as critical path analysis and planning techniques. The graph-style representation and given that this template was created with PowerPoint shapes, gives you the flexibility to modify the slides and use it as a business decision tree for decision making process or analysis slides.
This PERT template can also be useful to help analyze the tasks involved in completing a project with the minimum time.
This free decision tree PowerPoint template contains a tree diagram layout in PowerPoint that you can easily edit to model a decision tree slide. This decision tree diagram contains three levels and editable fields. The template also contains multiple slide designs with other tree diagram variants for PowerPoint and Google Slides, for example the org chart illustration in the slide #2. Alternatively, the slide #3 allows you to represent a horizontal tree diagram with elements highlighted in a different color.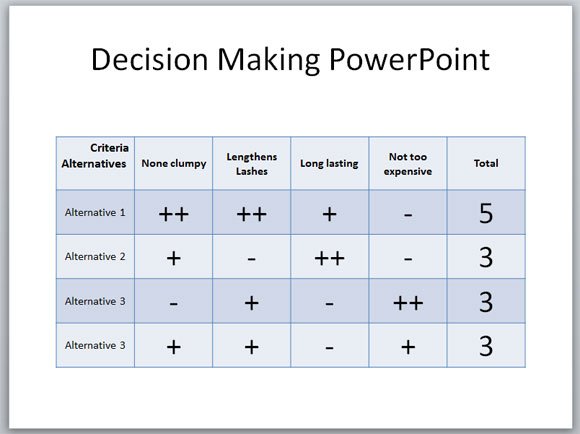 This is a simple matrix design for PowerPoint inspired by the decision making process grid that can be used to support your decision making processes. A decision making process grid has a matrix design that helps you to compare multiple options when there are also several criteria to consider. You can find this template by other similar names including Pugh matrix, decision matrix method, decision making matrix, decision grid, problem selection grid, decision matrix analysis, solution matrix or even as a MAUT grid. MAUT stands for Multi-Attribute Utility Theory.
It has many names, including Pugh matrix, solution matrix, decision making matrix, decision grid, problem selection grid, grid analysis, decision matrix analysis, and even the acronym MAUT, which stands for Multi-Attribute Utility Theory!
This tree diagram design template for Microsoft PowerPoint offers an alternative representation that you can use to model a decision tree in a PowerPoint presentation. Connecting a root node with other inner nodes and leave nodes, you can easily represent a decision tree in PowerPoint.
This premium PowerPoint template design has plenty of decision tree slide designs ready for Microsoft PowerPoint that you can use to represent a decision tree or make decision analysis slides in Microsoft Office. By subscribing to SlideModel you can download this and plenty of other PowerPoint templates for business presentations. Use the coupon code FPPT to get your discount.
This PowerPoint template contains awesome tree diagrams ready for Microsoft PowerPoint that you can easily customize and adapt for your presentation needs on decision making topics and decision analysis.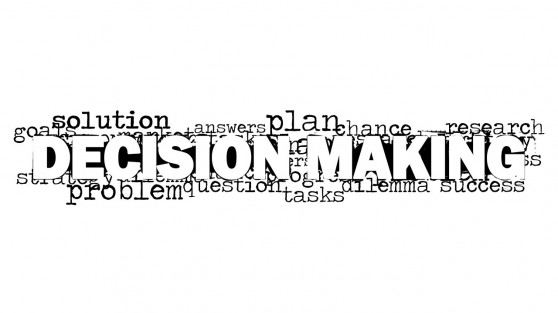 If you need to decorate your decision making presentations with attractive images then this creative decision making tag cloud design can help you to enhance your slides with top-notch word clouds for PowerPoint. It offers a creative tag cloud illustration with the words Decision Making on top of the slide and other relevant words behind.
Alternatively you may consider to download the follow direction PowerPoint template or wood street signs template with a decision tree metaphor slides or find other free PowerPoint templates for business presentations instead.
Get access to more than 15,000 PowerPoint templates including the best decision tree diagrams and designs
Go to SlideModel.com