How to make a Rolling Dice in PowerPoint 2010 using Shapes
Here we will show you how to make a simple 2D dice image in PowerPoint using shapes and then we will reference some free and premium dice templates for PowerPoint that you can download for your presentations on gambling or games, but you can also use them for lectures on probability and other educational PowerPoint presentations.
You can use this simple dice template to make dice odds rolling presentations in PowerPoint. We will start our design adding a rounded rectangle and then change the Format Shape options to add a gradient fill.
Now we will add the dice dots. We will explain how to make a number of three dots but you can easily move the black dots to generate other numbers from 1 to 6. As you can see we have used a circle shape to represent the numbers and this can be a good idea to make visualization slides in PowerPoint.
For the numbers you can add a slightly shadow to make it more realistic. Finally, if we copy the dots and the rectangular shape we can make other number.

Dices can also be used for games and other challenging PowerPoint presentations, but if you are curiosity about the theory behind dices and probabilities, you can learn more about dice probability to understand about the wizard of odds.
Free Dice PowerPoint Templates
If you need ready made PowerPoint templates with dices then you can download free dice PowerPoint template with a green background and four different 3D dices in the slide design. This PPT template can be useful for gambling presentations as well as presentations for casino managers.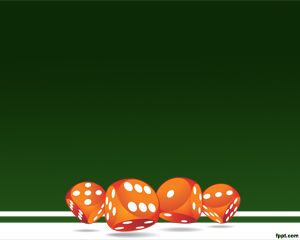 Premium Dice PowerPoint Templates from PresenterMedia
If you need powerful dice PowerPoint templates you can subscribe to PresenterMedia and download dice PowerPoint presentations. The following is a premium HD PowerPoint template with animations and dice effects.
You can purchase this template from PresenterMedia website or clicking here.