Best Technology PowerPoint Templates
In recent years entrepreneurs have rapidly migrated their business and production functions to the best available technology that their organization may be willing and able to employ. This means that organizations are not only rapidly making use of concepts like cloud backup but there is also a need for presenting and explaining such concepts to employees or the higher management in the form of presentations. Which brings us to the point that the need for Technology themed PowerPoint Templates is more than ever before.
Technology Themed Animated Templates For PowerPoint Presentations
Below is a compilation of different presentation templates for PowerPoint, which can be used for a variety of technology related topics. You can edit these animated templates like any common template, i.e. by adding your own content and removing sample text.
World Server PowerPoint Template
Ideal for making presentations about web hosting, networking, internet and other cloud computing related topics, the World Server animation can be used as a customizable PowerPoint template or in the form of a video animation for making presentations. World Server is basically a video animation which shows servers revolving around a globe. This animation is available as a video element within a PPTX version that can be downloaded from the Presenter Media link given below. Additionally, you can also download this animation in WMV, FLV or QuickTime format.
Go to Presenter Media – World Server PowerPoint Template
Connected World PowerPoint Template
This is another hosting and networking themed animation which is available as a PPTX (PowerPoint) template as well as in different video formats. The animation shows different planets connecting via a networked link.
Go to Presenter Media – Connected World PowerPoint Template
World Conference PowerPoint Template
This generic technology template shows a globe revolving on a conference table. You can use this template for presentations during conferences (e.g. webinars or office meetings). The template comes with various sample slides which provide diverse layouts to help you create static and animated slides for your presentation, with the help of basic PowerPoint features.
Go to Presenter Media – World Conference PowerPoint Template
Robot PowerPoint Template
If you are looking for an unconventional technology template for your presentations, then the Robot PowerPoint Template is just what you need. This animated template depicts a robot inserting a glass, with the option to customize the text that is displayed on the glass animation. The template has sample slides with editable tables, charts, clipart and more.
Go to Presenter Media – Robot PowerPoint Template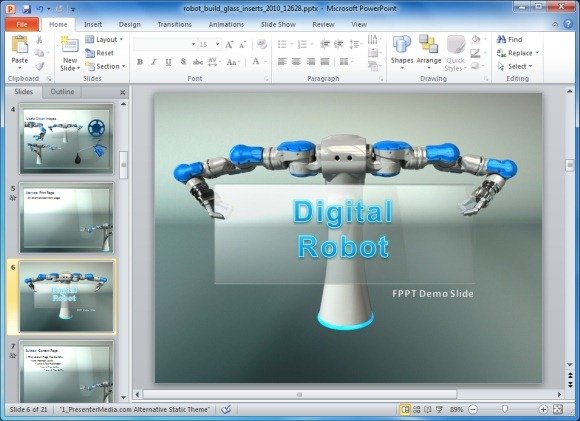 People Search PowerPoint Template
People Search PowerPoint Template shows different slides with topics related to searching for people. Such a template can be useful for marketing and sales related presentations, where technology may be an important factor; e.g. for topics like market segmentation using the internet for identifying potential customers.
Go to Presenter Media – People Search PowerPoint Template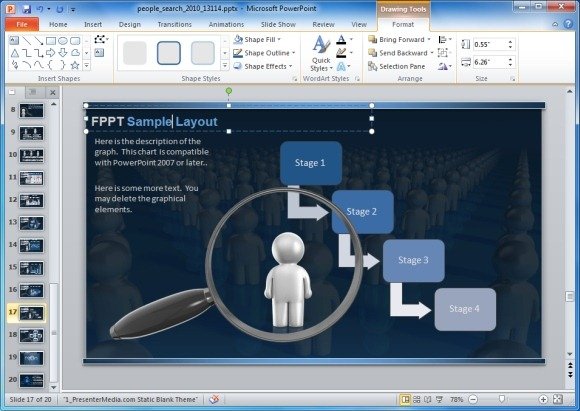 Flying Above The Clouds PowerPoint Template
Although this is more of a generic template related to any topic where you may have to depict a cloud; the template has ample scope for being used for presentations related to cloud computing. You can find out more about this template here or download it via the link given below.
Go to Presenter Media – Flying Above The Clouds Template