Best Methods for Creating Organizational Charts for Presentations
Last updated on August 5th, 2023
Making an organizational chart with accuracy can be hard, especially if you have to accommodate a number of individuals to create a chart which does not overlap or appear crooked. We have compiled some handy methods which can help you create accurate organizational charts, including use of software applications and templates.
1. Make an Org Chart with OrgPublisher
OrgPublisher is more than just an organizational chart maker. It is in fact a comprehensive workforce planning software which can also help you make automated organizational charts.
You can fetch employee data from multiple sources like your database or even a text file, to create organizational charts, departmental and workforce plans, etc. This makes OrgPublisher the perfect software for organizational charts.
You can also create new charts from scratch and export your charts to Excel, PowerPoint, HTML and PDF format, as well as print them on paper.
You can try out this software on a 30-day trial basis to see how it can integrate your workforce in a powerful system, allowing you to create comprehensive organizational plans with accuracy.
Go to Download OrgPublisher
2. OrgPlus Organizational Chart Maker
This is another org chart software. Unlike OrgPublisher, OrgPlus is more focused on merely creating professional organizational charts. With this software you can create professional looking organizational charts by using readymade templates, which makes it easy to design all kinds of org charts within a short period of time. You can read more about this software from our review of OrgPlus or download it via the link below.
Go to Download OrgPlus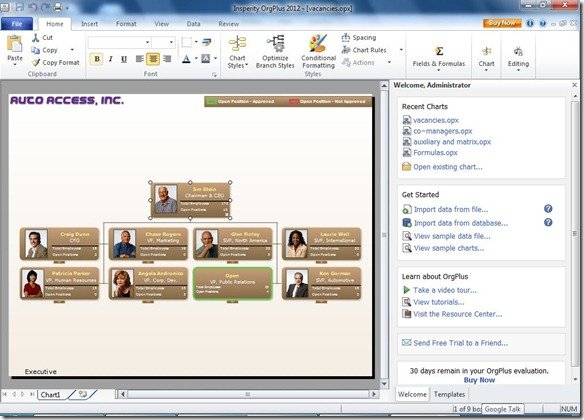 3. Create an Hierarchy Chart using SmartArt Graphics
One of the easiest ways of making organizational charts is to use PowerPoint SmartArt Graphics, particularly by using the hierarchy SmartArt.
Just pick a suitable Hierarchy SmartArt which meets your organizational structure and you can begin customizing your chart using a plethora of options from the Ribbon menu.
4. Download PowerPoint Organizational Chart Templates
Another easy solution for making accurate organizational charts is to make use of high-quality PowerPoint Templates. Various third-party websites, as well as Office.com provides templates for making organizational charts. We have singled out a few highly customizable organization chart templates for PowerPoint which you can use for making professional charts with ease.
Org Chart Template for PowerPoint
This org chart template for PowerPoint provides six editable layouts for making organizational charts. This is a highly customizable org chart template which means that you can rearrange objects via drag and drop and format them using PowerPoint Ribbon menu options.
Go to Download Org Chart Template for PowerPoint
3D Organizational Chart for PowerPoint
This PowerPoint org chart template provides three sample 3D charts which can help you conveniently create 3D organizational charts with ease. To change the hierarchy, simply add/remove objects to arrange them according to your organizational structure.
Go to Download 3D Organizational Chart for PowerPoint
Animated Org Chart PowerPoint Template
This animated org chart template provides sample avatars with animated slide layouts. You can customize this template down to basic elements in sample slides and replace sample content to create animated slides with organizational charts.
Go to Download Animated Org Chart PowerPoint Template
You can download more high-quality organizational chart templates from the links given below.