Best Editable USA Map Designs for PowerPoint Presentations
Last updated on November 14th, 2023
If you need to add a US Map in Microsoft PowerPoint presentation then the following US Map templates ready for business presentations in PowerPoint can help you to prepare your presentations with success.
This article reviews some of the best templates for PowerPoint that you can use to present a sales report, marketing, or business presentations showing US regions on a map.
US Map for PowerPoint presentations is provided by PresenterMedia and contains a toolkit that you can use to design your map in PowerPoint including US regions and states.
There are several map slides inside this presentation template customized with map markers and pointers or decorated with other design elements that can help you to make visually appealing presentations with US maps.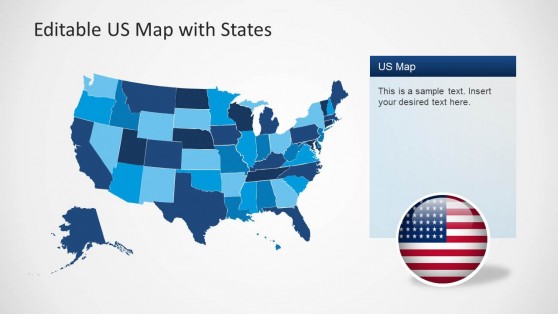 Editable USA Map PowerPoint template from SlideModel.com contains affordable & free-royalty vector shape designs ready for business presentations requiring to show a sales or marketing map of United States and regions can be easily customized in PowerPoint.
If paying for a map is not an option, we can also offer you the following free US map template alternative for PowerPoint. 
Free US Map outline template for PowerPoint contains a US map outline created with vector shapes in PowerPoint. Also, this free editable US map for PowerPoint have some basic map markers are provided so you can use drag and drop to locate the map pointer or marker in any desired location.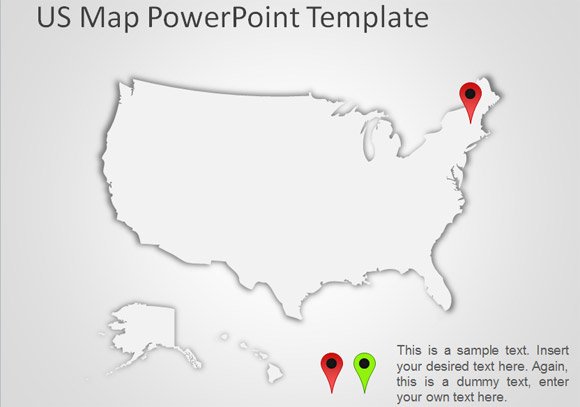 Recommended reading: Top 10 United States Outline Maps With Examples
Practical Applications of Editable USA Maps in Presentations
Educational Settings: In schools and universities, editable US maps are invaluable for teaching geography, history, and social studies. They can be used to illustrate historical events, demographic changes, or geographical features.
Business and Marketing: Businesses often use editable maps in presentations to highlight market regions, sales territories, or distribution networks. They are particularly useful for visualizing data in a way that is easy to understand and engaging for stakeholders. They are also helpful when preparing sales reports and business posters.
Government and Policy Presentations: Government agencies and policy makers utilize these maps to discuss legislative districts, plan public works, or communicate policy impacts on different regions. They offer a clear visual representation that can make complex data more accessible.
Tourism and Travel: Travel agencies and tourism boards use editable maps to showcase destinations, travel routes, and attractions. This visual tool can enhance the appeal of travel presentations, making them more interactive and informative.
Event Planning and Management: Event planners can use these maps to manage logistics, showing locations of venues, transportation routes, and nearby facilities. They help in organizing large events like festivals or conferences.
Real Estate and Urban Planning: In real estate, editable maps are used to display property locations in listing presentations, neighborhood demographics, and development plans. Urban planners also use them to present urban development projects or zoning changes.
Crisis Management and Public Safety: During emergencies, editable maps are crucial for visualizing affected areas, planning evacuation routes, and coordinating relief efforts. They are essential tools for crisis response teams and public safety officials.
Scientific Research and Environmental Studies: Researchers use these maps to display findings related to environmental changes, population studies, or health trends. They are particularly effective for presenting complex scientific data in a digestible format or when preparing scientific presentation posters & reports.
By incorporating editable US maps into presentations, presenters can convey their message more effectively, making complex information accessible and engaging for their audience. Whether for educational purposes, business strategies, or public information, these editable maps for presentations can help you.
Conclusions
At FPPT we work with maps in PowerPoint and often, we need to prepare presentations with various map designs, including continent maps, country maps, or even state or region maps. If you require any particular map design for your presentations, please get in touch with us, and we can send you a few recommendations. You can also find free editable US maps with States for your presentations in our catalog.