Animated Jeopardy PowerPoint Templates
Want to play Jeopardy just like the game show on TV? The best way to do that is to use Animated Jeopardy PowerPoint Templates that can help you quiz your contestants right from a PowerPoint slide show and it is suitable for work but also to use at school as a Jeopardy game for kids.
Animated Jeopardy PowerPoint Template
Designed with over 60 slides, this interactive game template is meant to give you the true Jeopardy experience. You can play your own game show with your friends, colleagues, with students at school and even conduct your own competitions. This template features a fully functional question/answer board just like the Jeopardy game show.
The sample slides provide space for adding your questions and answers, which can be revealed as per your convenience.
Related: How To Create Jeopardy Templates Online
The template also comes with instructions for managing your interactive panels. These instructions include information about how to use the template, including details about adding questions and answers and making panels inactive. You can preview the sample slides from the developer's website to see the functionality of the template before downloading it. This animated template for PowerPoint with jeopardy for kids or work is available for PowerPoint for Mac and PC.
Go to Presenter Media – Animated Jeopardy PowerPoint Template
Interactive Panels PowerPoint Templates
The interactive panels templates are another good option for conducting a Jeopardy like game show using PowerPoint, using interactive panels. These templates can be downloaded as a four panel toolkit template and an eight panel toolkit template. These Templates are available for:
PowerPoint for PC
PowerPoint for Mac OS
Keynote for iPad and Mac OS
Go to Presenter Media –  4 Interactive Panels PowerPoint Template
Go to Presenter Media – 8 Interactive Panels PowerPoint Template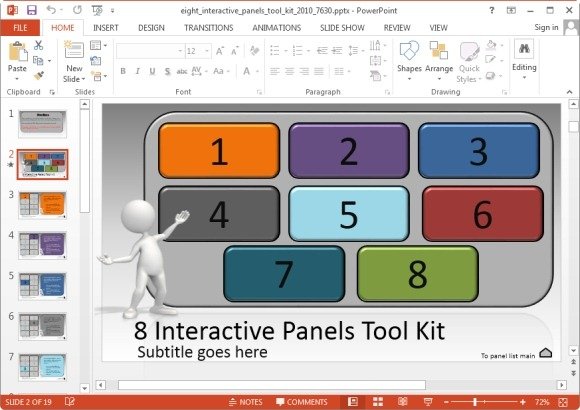 Game Show Toolkit for PowerPoint
As the name suggests, this is a game show themed template with interactive panels to help you conduct game shows. This template provides panels where you can add your questions and hide them during the slide show. You can ask contestants questions and then reveal the answers. This toolkit template is available for the following:
PowerPoint for PC
PowerPoint for Mac OS
Also see detailed instructions for using the Game Show Toolkit Go to Presenter Media – Game Show ToolKit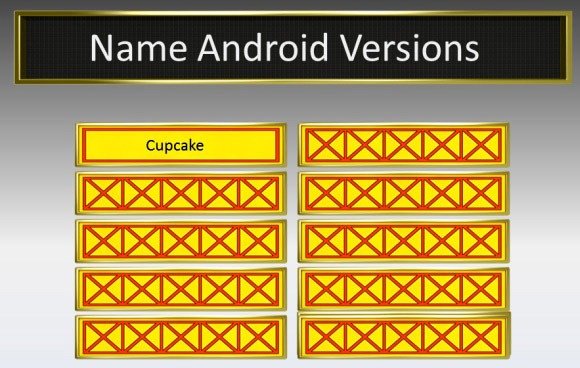 Game Board Sign Clipart
You can also download this standalone game show clipart and customize it by adding textboxes and images to it. This clipart image is available in different resolutions in PNG and JPG format.
Go to Presenter Media – Game Board Sign Clipart