How to Recover Deleted PowerPoint Presentations
You might face a situation while you're working hard with your presentation and suddenly the power goes out or your computer crashes. And adding spice to the sudden death of your computer, what if you didn't save any previous copies of your PowerPoint work?  Well, that would be very annoying but no one can really predict what could happen. It's actually better to be on safer side and be aware of the ways of recovering deleted or unsaved PowerPoint presentations.
The first and important thing you should consider before doing some presentation work on MS PowerPoint is to enable auto save feature that comes built-in with MS PowerPoint.
Enabling AutoSave
Click on file > options and a pop up window will appear. Now, for the latest MS PowerPoint, this option would be appear when you click on PowerPoint symbol (top left corner) on the ribbon.
Once you get the pop up window with the title "PowerPoint Options", click on save tab from left sidebar.
Now, you'll have the tick-mark box with the title "Save Autorecover information after every __ minutes". Pick a time period for AutoSave frequency.

Tick the box and give an appropriate path where you would like windows to store temporary files to store.
On older versions of MS PowerPoint, you'll have the extra option which states the path for storing auto saved files.
Steps to recovering unsaved or deleted presentation files
If you're trying to recover a recently developed PowerPoint file then you're in luck.
Right when you click on PowerPoint symbol, recent documents are shown which would allow you to restore any previous presentations.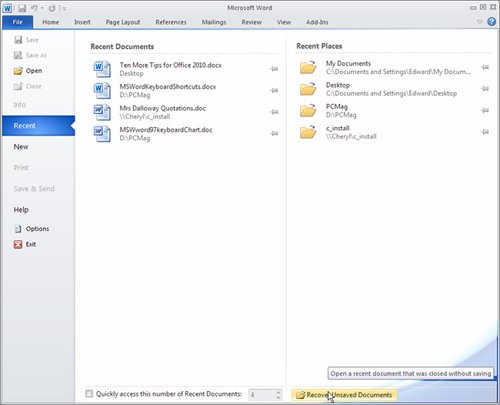 On the older versions of PowerPoint, you'll find this option under File > Recent and at the bottom Recover unsaved presentations.
Clicking on this option will take you to the PowerPoint folder which is being used to save auto saved files that weren't manually saved by you.
Now, please remember that these files are temporary and will wipe out after 2 or 3 days.
PowerPoint 2013 allows you to sync the files on your cloud storage account, a fool proof way to protect your files from deletion and data corruption.
This method usually saves a lot of work because most of the recent files can easily be restored. This auto save feature is only available for MS PowerPoint 2010 and other upgraded versions. So, if you've an older version, it's time to revamp and switch to the latest one.