How to Export Color Themes in PowerPoint 2010
PowerPoint color themes offer a powerful tool to work with colors in your PowerPoint presentations and help you to define the look and feel of your presentation. If you have created many custom color themes and want to share the colors with other co-workers or even with company designers then you will be interested to export your current database of color themes from PowerPoint.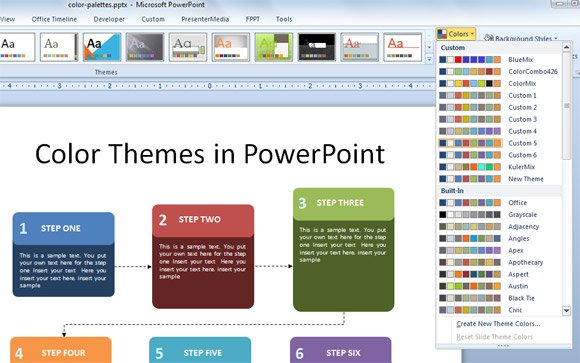 In order to export the color themes in PowerPoint 2010 you will need to locate the .xml files with the color theme definition in your hard disk.
Fortunately it is easy to find this folder. You need to point your Explorer to the following address:
%USERPROFILE%\AppData\Roaming\Microsoft\Templates\Document Themes\Theme Colors
Then, under the name of your color theme (with .xml extension) you will find the custom theme colors.