Animations For PowerPoint
If you need animated PowerPoint templates then we have a section with free animated templates for PowerPoint that you can download and use in any PowerPoint presentation. There are many transitions that you can also make in your own PowerPoint presentation but starting with an animated PowerPoint template lets you avoid spending so much time creating the animated templates from scratch.
In PowerPoint 2007 and 2010 there are many already defined animated effects that you can use. For example, you may choose to use cool animations for PowerPoint like Cover effects, Blinds effect, Shape Diamond effect, Wheel effect and even more.
Usually you start with your PowerPoint presentation file with no effects. Once you start building your slides you can add new effects to the slide transitions. When playing the presentation then your audience will see a transition between the slides.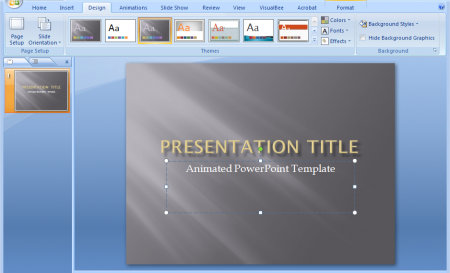 Then you need to locate the Animations tab, it is on the top of menu bar.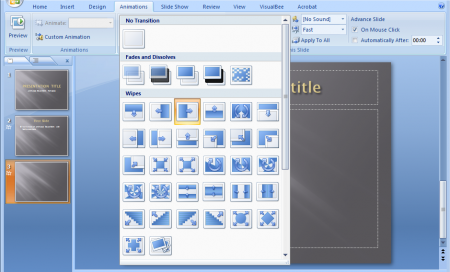 Under transitions tab you can select transition effect for your slide. If you have multiple slides you can choose the effects individually for each slide or if you want to apply the same animation effect to your PowerPoint presentation you can also do it. Under transitions tab in PowerPoint 2007, there are more than 30 transitions that you can use to animate your PowerPoint.
Custom Animation in PowerPoint
If you don't want to animate the background but instead you want to use custom animation, then you can achieve that by using your own animated cliparts or original cliparts from PowerPoint with custom animated effects. In the following example we created a new slide and added a Clipart image. Then we choose Custom Animation from the Animated menu tab. Once there, you can add new effects like transitions, entrances, exit animation, shadow, special effects and more.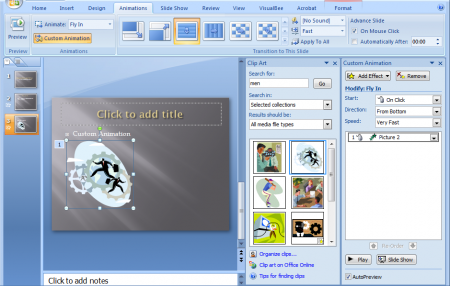 This functionality makes you possible to create attractive PowerPoint presentations by combining not only images, media or text, but also animated effects in PowerPoint.
If you enjoyed this template we encourage you to visit our free PowerPoint templates website.