How to add music to PowerPoint
Music can be very important in your Powerpoint slide shows. Imagine that you're going to make a presentation about a musical style or a music group, or maybe just a birthday surprise for someone special.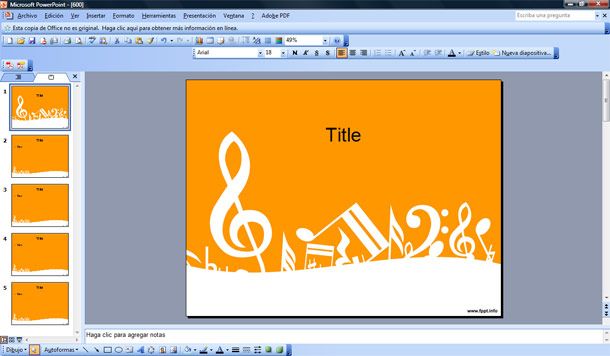 Adding music to your PowerPoint works is very easy, and gives a good feeling about what a great work should have. So let's get into it!
1. Get MP3 or WAV Music files!
Those are the best formats, they can give you a very good quality without needing a lot of space. The important difference between formats is that MP3 files can't be added as normally to your presentations, though WAV files can be.
Now that you have your songs or sound effects prepared, let's go with the next step.
2. Insert music files in PowerPoint
For Powerpoint 2007, go to main menu and select option "Insert". Then, click on "Sound" on the right side of the menu. Then, select "Sound from file…"
For older versions, click on "Insert", then "Movies and sounds'', and finally "Sound from file..". 
Select your file and choose if you want it to be "Automatically" at the beggining of the slide show or "When Clicked". In this last option, a sound icon will appear in every slide of the presentation.
3. Embed music in your PowerPoint presentation
This is an important part. If the sound file is linked,  you will have to send the music along the normal "ppt" file. But if you embed it, the music and the slide show will work as one single file. To do this, you will have to use WAV files, and take care that those files aren't too big. To set this, click on the sound icon appearing on the slide, and then select "Sound options" on the contextual menu.
Important tips: If you want the same music file to sound along some slides, choose "Animations" from the main menu and then click on "Custom Animation". Then, select "Effect options" and a little window named "Play sound" will be displayed. Here, you can set a lot of options for your music.
Remember that music isn't always the most important thing: We can help you to make the best presentations!